Meine Fotos des 11. September kostenlos im Apple iBookstore | als Film bei YouTube | Fotos bei Flickr
Download the summary of "A Week in September 2001".
Kurzbeschreibung von "Eine Woche im September 2001".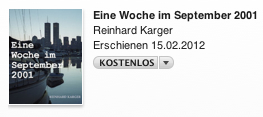 "Eine Woche im September 2001", die deutsche Version, ist als kostenloses eBook im Apple iBookstore erhältlich. Voraussetzungen: "Dieses Buch kann nur mit iBooks 2 auf einem iPad angezeigt werden. iOS 5 ist erforderlich". Die PDF-Version ist ebenfalls verfügbar (32 MB Download). Die Auflösung ist reduziert, aber für die Bildschirmdarstellung ausreichend, Fotogalerien sind in der PDF-Version leider nicht interaktiv.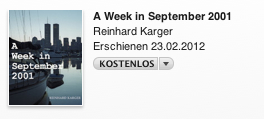 "A Week in September 2001", the English version, is now available as a free eBook in the Apple iBookstore. Requirements: "This book can only be viewed using iBooks 2 on an iPad. iOS 5 is required".
You can also download the PDF version, 33 MB. Unfortunately photo galleries are not interactive in the PDF version.
Die Fotos sind mit einer analogen Kamera (Contax T2) in der Zeit 08.-16. September 2001 entstanden. Die meisten habe ich von Bord des Segelboots "Manitou" aufgenommen, das zu diesem Zeitpunkt in der "Liberty Landing Marina" lag (Google Maps).
Sämtliche Fotos als Video bei YouTube.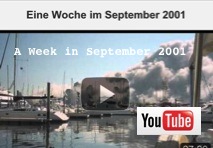 Sämtliche Fotos bei Flickr.